| | |
| --- | --- |
| Article number: | LL-CAN-SCNGE-180-XS-FBA |
| Availability: | Out of stock |
Canicross set: X-Back pulling harness made of an extremely hard-wearing material. The high-quality soft Airmesh padding in the neck and chest area is air-circulating and water-repellent (does not absorb water), sits very comfortably on the animal and thus promises the best protection for the fur and skin of your four-legged friend. These harnesses adapt perfectly for optimal power transmission, so that the dog feels free even under tensile load and can therefore cope with obstacles and challenging situations.
It is important to choose the right size. Please refer to the size table in the picture gallery for this. Chest size b and back length A to C (withers to the base of the tail) and weight are decisive for the choice of size.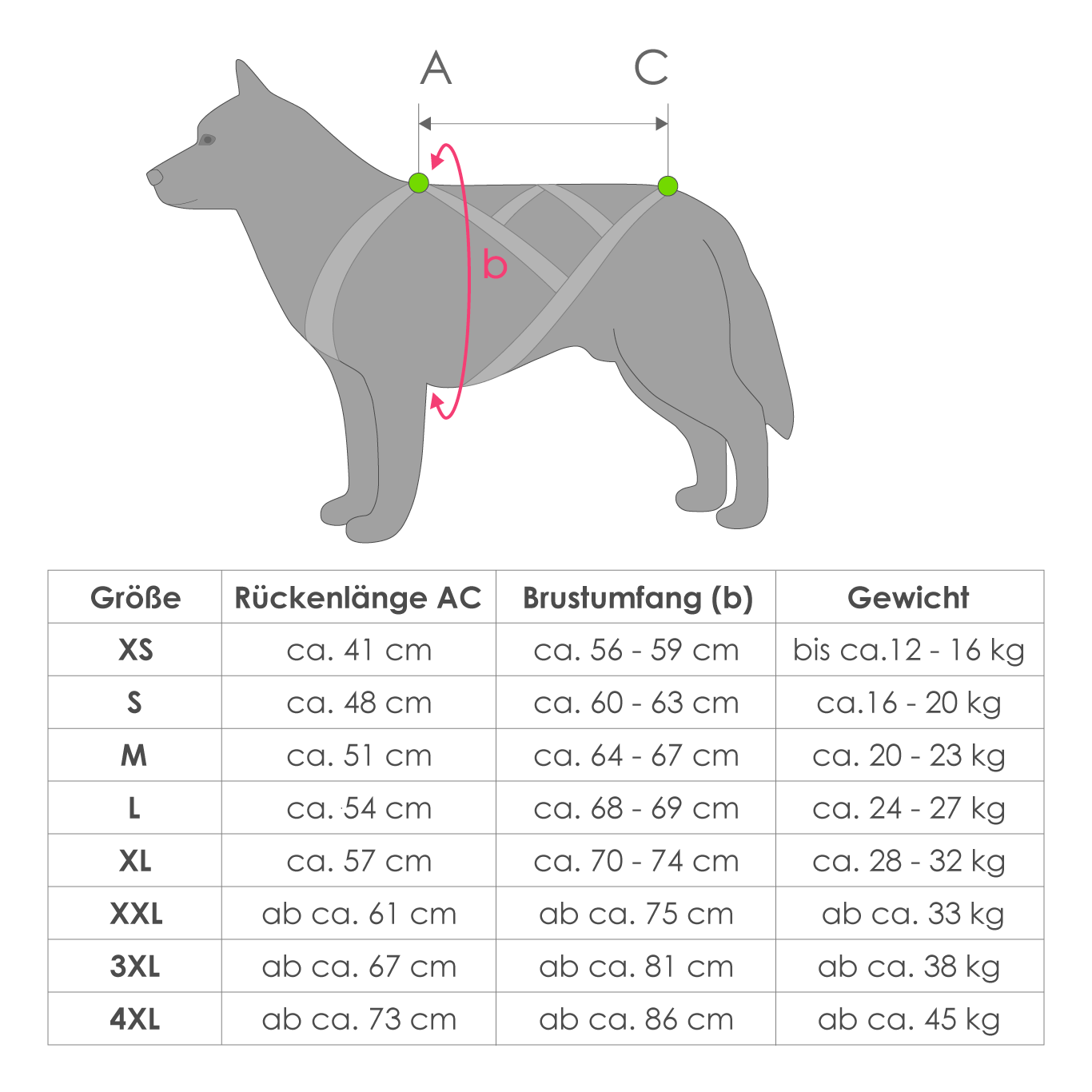 These details are not standard measurements and the back length is not always tied to the specified chest size. The size of the X-Back harness varies depending on the size ratio between back length and chest circumference. Therefore, if you are not entirely sure or if you have a completely different breed in terms of body type, we will be happy to advise you on the choice of size. Simply tell length A to C, the breed (mix), chest size b and the weight. We then recommend the right size after an inquiry.
Note: The X Back is only recommended for adult dogs from an age of at least 12 months. Furthermore, it is important to ensure that your four-legged friend should have healthy hips for dog pulling, or otherwise this should be discussed with the vet beforehand.

In addition, in combination there is a canicross leash with integrated shock absorber and a length of 142cm when loose. The leash is equipped with 2 brass carabiners, which are characterized by high quality and durability and have an unrestricted function, especially at very low temperatures. The shock absorber compensates for the different step rhythm of humans and animals and is therefore easy on the joints and back both for his beloved four-legged friend and their owner. The set also includes a canicross belt with breathable, air-circulating padding (Airmesh) for a permanently dry Feeling. Thanks to its ergonomic shape, this waist belt fits perfectly and comfortably in the waist, so that it is hardly noticeable even after longer tours and heavy use. Another special feature are the rings attached to the side, which enable dogs to run alongside and not just have to run ahead. This leads to a wonderful shared sporting experience between dog and mistress. Up to 110cm hips.