| | |
| --- | --- |
| Numéro de l'article: | LL-XBACK-SCHNP-L |
| Disponibilité: | En stock (5) |
LASALINE™ X-Back Weight Pulling Dog Harness
Suitable for the following dog pulling sport:
Canicross, Bikejöring, Skijöring, Dogscooting, Sledding, for all Breeds, Sport and Sleddogs
Color: In Black with neon rosé airmesh padding
Brand: LASALINE™
Size: Available in sizes from XS to 4XL
In general, the X Back Harness is the most widely used and ultimate harness in dog pulling sports. Due to the X straps, it protects and stabilizes your dog's back especially on long distances and evenly distributes the pulling force over the entire body.
Why LASALINE™ X-Back Weight Pulling Dog Harness?
Our LASALINE™ X-Back Harness is ideally suited for hobby athletes, intensive training and for professionals in dog sports. Thanks to our own many years of experience and numerous uses, the design and cut of this dog pulling harness has been constantly improved and technically perfected.
The LASALINE™ X-Back Harness allows a joyful and positive experience with your four-legged friend thanks to the excellent quality and technically flawless features:
•   extra padded chest with smooth and water repellent surface acts as an anti-friction protection for coat and skin and provides a comfort for your dog;
•   breathable padding provides the perfect heat dissipation for peak performance;
•   the optimal support and the belt width enable balanced force and pressure distribution for the highest loads;
•   the reflectors provide more safety in any weather and any time of day.
SELECT THE CORRECT SIZE:
Use the following size chart to define the right size of the pull harness. If there are different sizes according to the table, then choose the size according to the weight of your dog. You are also welcome to contact us and we will advise you on the choice of size. Customer service is very important to us!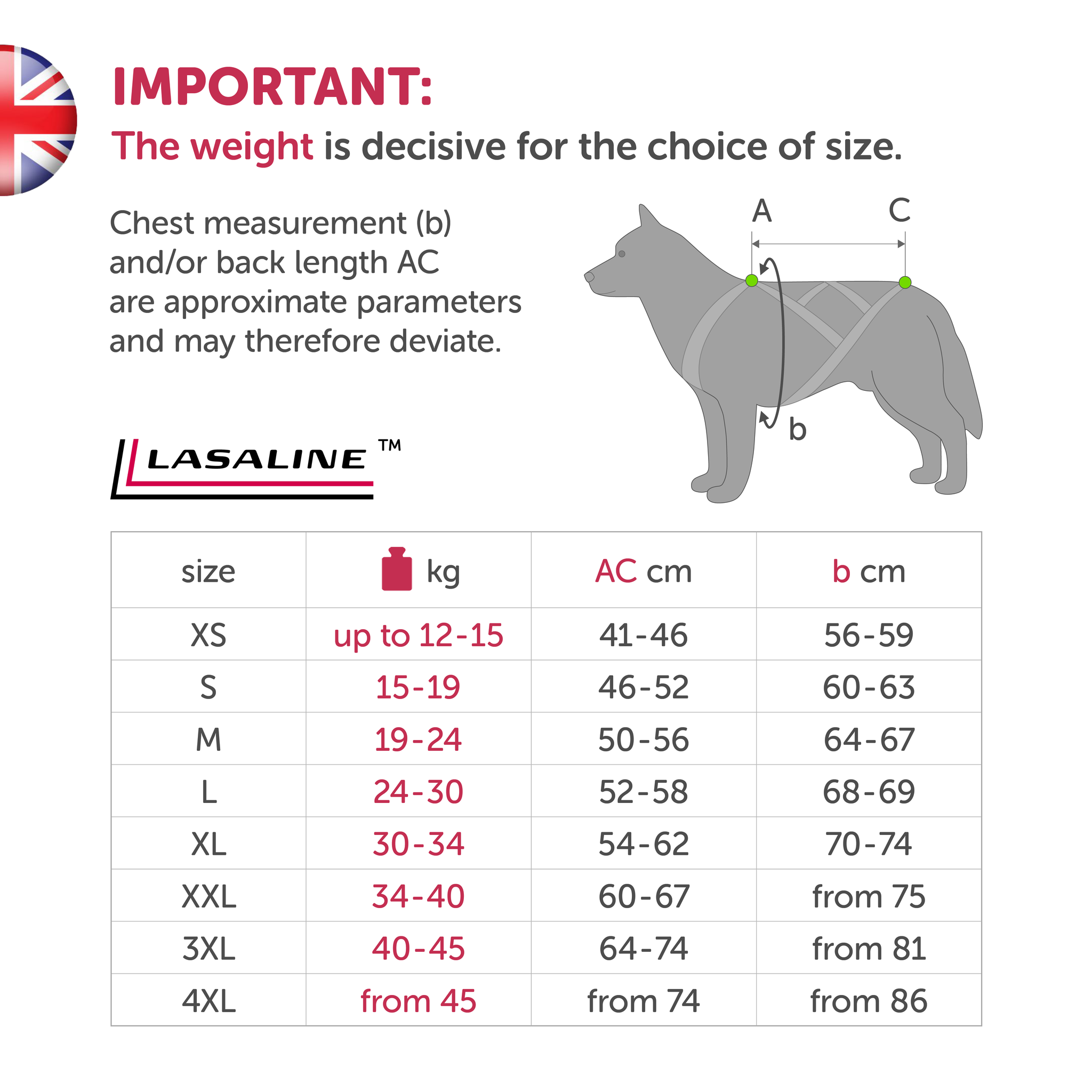 GOOD TO KNOW MORE:
This pull harness fits perfectly for optimal power transmission. The exposed shoulders give the dog freedom of movement and therefore safety, so he can easily overcome obstacles and challenging situations. The X straps keep the back stable and support it. This is important and necessary because dogs in pulling sports apply a high thrust force with their hind legs and this is transferred to the front via the back. Therefore, the X Back harness is optimal also in the recreational area and for not yet trained dogs, which build up the back muscles first!
    This X-Back pull harness is specially designed in the chest area and between the front legs with an extra soft and smooth padding, because here especially the main tensile load comes to bear. It thus provides a special comfort for your dog and protects especially fur and skin in places that are exposed to friction. In the remaining area, this harness is equipped with a breathable Airmesh padding. This does not absorb water and remains as good as dry. The straps are 4-way stitched for extreme wear and tear. On the side and neck area, the harness is equipped with fabric reflectors for greater safety.
ENTRETIEN:
La vaisselle est facile à nettoyer, adaptée à la machine à laver (en cycle délicat/lavage à la main) à 30°, 400-600 tours/minute. Il suffit de mettre le harnais de train dans la machine à laver, d'ajouter un peu de détergent, de suspendre après le lavage et de laisser sécher.
NOTE:
The X Back is only recommended for adult dogs from an age of at least 12 months. Furthermore, it should be noted that your four-legged friend should have healthy hips for the dog pulling sport, or otherwise this should be discussed with the vet beforehand.