| | |
| --- | --- |
| Article number: | BR-FS-MOSQ-150 |
| Availability: | In stock (32) |
| Unit price: | €1,97 / 100 g |
Brit Care Dog Functional Mobility Squid
This dog treat is enriched with glucosamine, chondroitin, boswelli and green mussel extract to support joints and cartilage.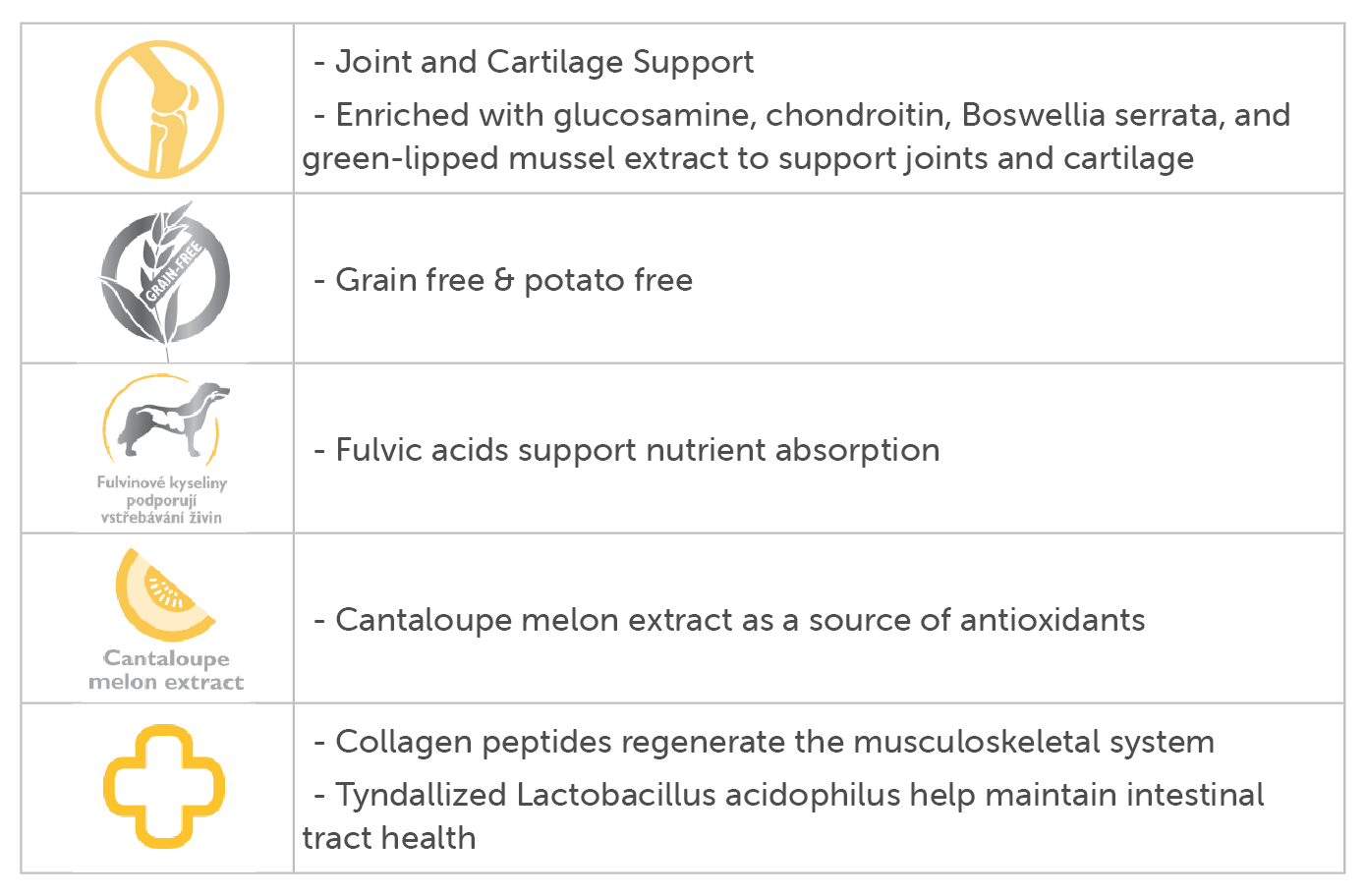 Feeding table:
A functional semi-moist snack is a healthy, meaty, and tasty addition to your dog's regular diet. Serve daily as a reward for positive motivation training, or as a treat for shared moments during the day. Make sure your dog always has plenty of fresh drinking water.

WHY PINEAPPLE?
Pineapple is an incredibly delicious and healthy tropical fruit rich in enzymes, vitamins, and antioxidants, which protect cells from the damaging e ffects of free radicals. The enzymes in pineapple also act as an atural painkiller.

SQUID
A low-fat marine food rich in zinc and copper.
Composition: squid dehydrated (26%), pumpkin (20%), red lentils (15%), liquid vegetable starch (14%), squid protein* (10%), salmon gravy* (5%), collagen* (4%), glucosamine (1.5%), dried pineapple (1%), salmon oil (1%), chondroitin sulphate (1%), Boswellia serrata (0.5%), fulvic acid (0.5%), minerals, egg shell membrane (0.1%), green-lipped mussel extract (0.1%), cantaloupe melon extract (0.01%), Lactobacillus acidophilus HA – 122 inactivated (15x109 cells/kg)*hydrolyzed
Analytical ingredients: crude protein 30.0 %, crude fat 4.5 %, moisture 17.0 %, crude ash 5.0 %, crude fibres 0.8 %, calcium 1.0 %, phosphorus 0.8 %, sodium 0.8 %, omega 3 0.35 %, omega 6 0.4 %
Nutritional composition: vitamin C (3a312) 500 mg. With EU approved preservatives: citric acid (E 330), DL-malic acid (E 296).
Metabolizable energy: 3 215 kcal/kg
Variants: 0.15 kg