Northern Howl
Canicross Pull Harness, adjustable
Suitable for the following dog sports for lighter tensile loads:
Running, Jogging, Hiking, Touring, Canicross, Skijoring, Dogtrekking
Size: Available in sizes from XXS to XXL
WHY the Canicross Pull Harness?
If your dog is not always on the train and often runs on the side, then this Canicross pull harness is the right choice!It is recommended for lighter traction work such as Canicross or Jogging and not suitable for heavy traction work such as Dogscootering, Bikejoring or Sledding!
Besides the great advantage of enjoying nature with your dear four-legged friend and at the same time  have both hands free,the other features of the Canicross dog harness stand out very well:
•  This dog harness is adjustable in size in the chest area;
•  The Jöring or Canicross leash can be hooked between the middle and rear back area, which also makes it possible and pleasant to run side by side together with your dog. A constant running ahead of the dog on train is therefore not mandatory;
•  The wide contact surface at the neck continues over the chest to the back and thus evenly distributes the traction force with the main traction point in the chest area;
•  In addition, the harness is equipped with reflectors on the sides and top for greater safety at any time of day.
Select correct Size:
Use the following Size Chart to define the correct size of the Pull Harness. You are also welcome to simply contact us and we will advise you on the size selection. Customer service is very important to us!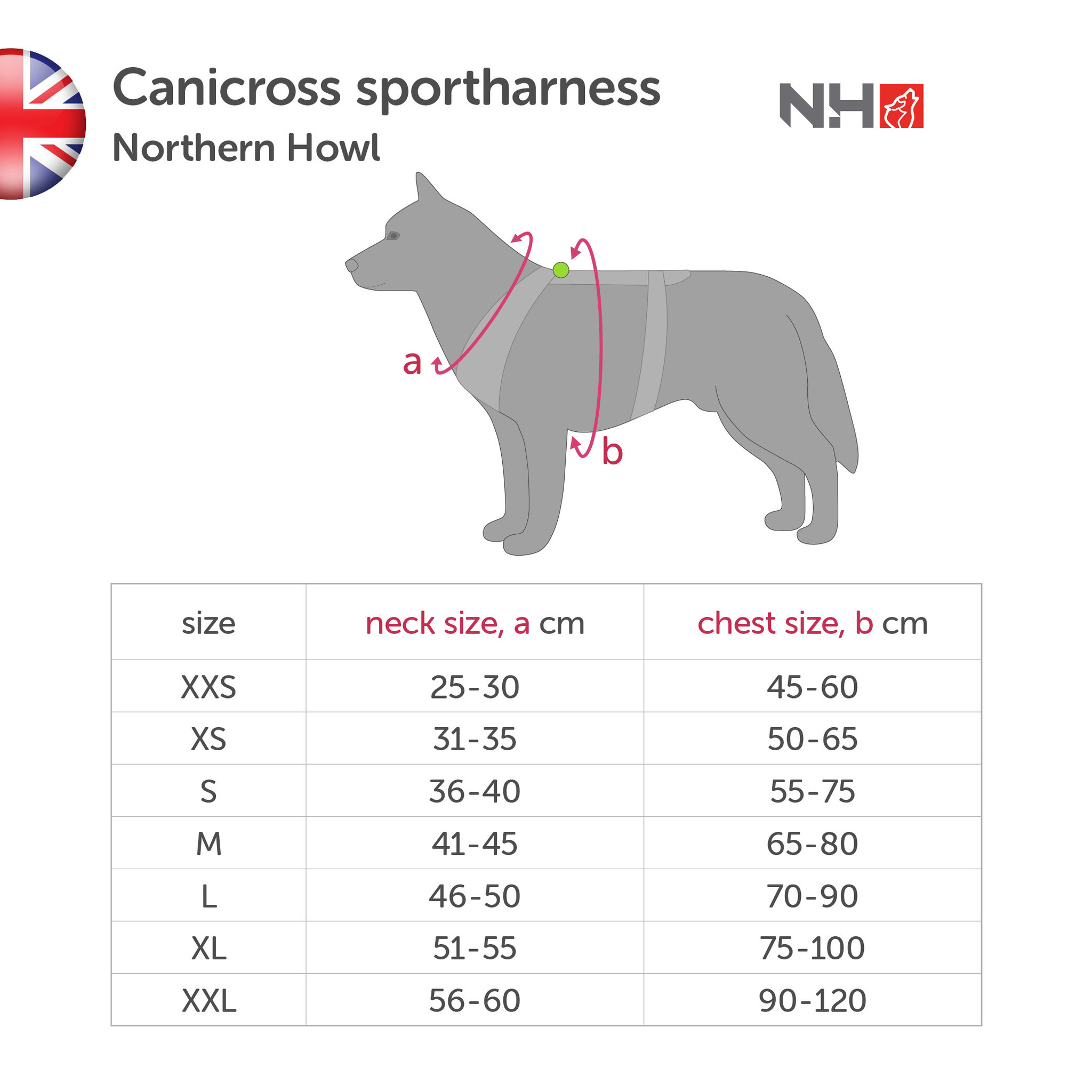 Janik
07-09-2019 16:59
Ich kann Lasagroom in allen Belangen nur weiterempfehlen. Bereits vor dem Kauf habe ich mich per E-Mail wegen der Größe und der Art des Geschirrs beraten lassen. Meine Fragen wurden ausführlichst und sehr kompetent beantwortet. Ich habe mich dann für ein Set entschieden, bei dem das x-back Zuggeschirr zunächst zu groß war. Anhand von Fotos wurde ich nochmals beraten und mir wurden sofort mehrere Geschirre zur Auswahl geschickt. Letztendlich habe ich mich dann für zwei Geschirre (x-back und Canicross-Kurzgeschirr) entschieden, da ich sie für unterschiedliche Dinge benötige. Beratung, Service und Qualität absolut top! Jederzeit wieder!
5
stars based on
1
reviews