| | |
| --- | --- |
| Availability: | Out of stock |
Northern Howl X-Back Weight Pulling Dog Harness
Suitable for the following dog pulling sport:
Canicross, Bikejoring, Skijoring, Dogscooting, Sledding, for all Breeds, Sport and Sleddogs
Colour: Black with neonyellow Airmesh-Padding
Brand: Northern Howl
Size: Available in sizes  XS from 4XL 
For adult dogs from the age of 12 months

 
The X Back Harness is the most widely used and ultimate Harness in Dog Pulling Sports. Our Northern Howl Dog Pulling Harness with its excellent quality and features offers many advantages:
•  X-Straps of the Harness protect and stabilize the back of your dog and evenly distribute the tensile force;
•  Belt material with 25 mm width withstands extreme loads;
•  Soft, tear-resistant and breathable padding in the neck and chest area and along the main straps made of Airmesh material, which does not absorb water and dries immediately;
•  Fabric reflectors on the side and neck area for more safety;
The Northern Howl Pull Harness fits perfectly on the body for optimal power transmission. At the same time, the exposed shoulders give the dog the maximum freedom of movement, so that any obstacles and challenging situations can be best managed.
SELECT THE CORRECT SIZE:
Use the following size chart to define the right size of the pull harness. If there are different sizes according to the table, then choose the size according to the weight of your dog. You are also welcome to contact us and we will advise you on the choice of size. Customer service is very important to us!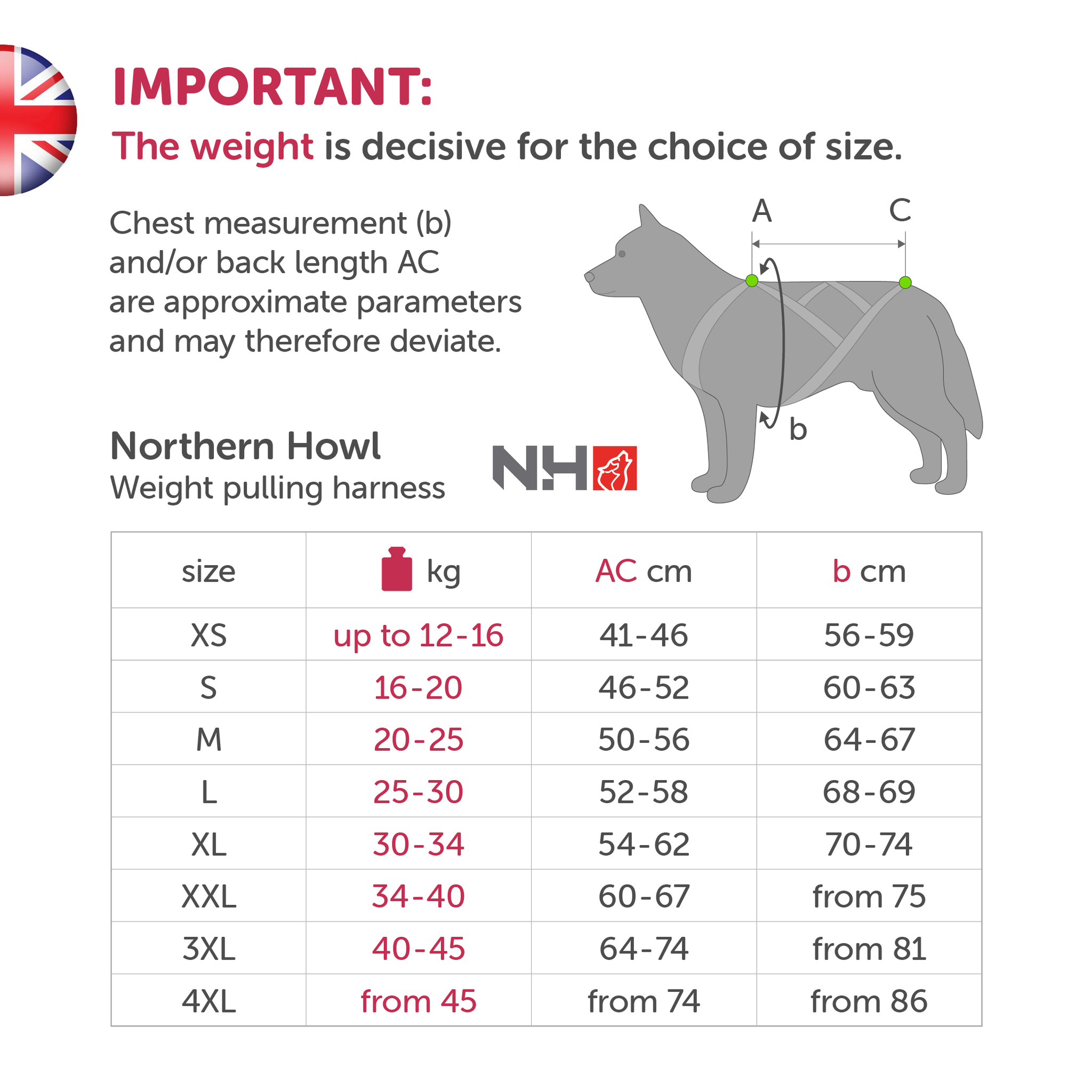 CARE:
The dishes are easy to clean, suitable for washing machine (on delicate cycle/hand wash) at 30°, 400-600 rpm. Just put the train harness in the washing machine, add a little detergent, hang up after washing and let dry.
NOTE:
The X Back is only recommended for adult dogs from an age of at least 12 months. Furthermore, it should be noted that your four-legged friend should have healthy hips for the dog pulling sport, or otherwise this should be discussed with the vet beforehand.